We have two delightful garden spaces for patrons to enjoy.
Designed with adults in mind, our Reading Garden is located at the back of the building near three accessible parking spaces.  Enjoy comfortable seating to read a book or get together with friends. Enjoy your lunch at one of the tables, or sit and work on your device. Our WiFi easily extends to the Reading Garden. Feel free to move the umbrellas wherever they shade you from the sun.
The garden is populated by native plants such as Purple Coneflowers, Blazing Stars, and Black-Eyed Susans. By gardening with natives, we support butterflies, birds, and the insects that serve as food for the birds.
You'll also enjoy the sculpture, Tempest, by Jennifer Gilbert Asher & Mario Lopez. This weathered steel sculpture with a stainless steel sphere reminds us of a dandelion. What does it make you think of?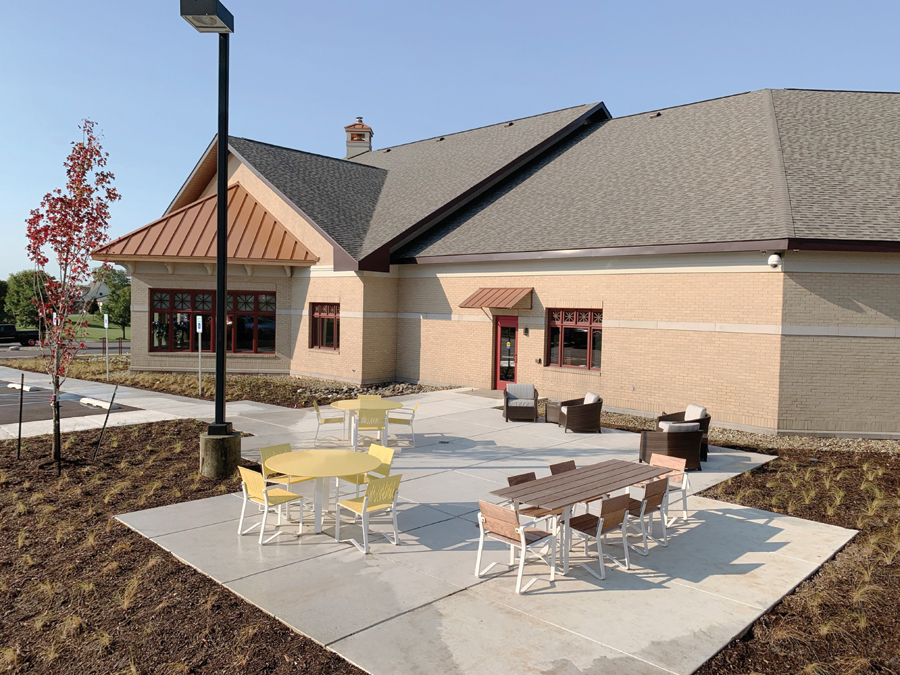 The Exploration Garden is designed with young children in mind, but we find that no one is too old to enjoy it! Walk the sweet little path that goes behind the youth area and discover the many opportunities for playing and learning.  We have a log to climb on, rocks to walk on, a stage to sing and dance on, and an akambira that you can play.
During the warmer months, you will also be able to use the mud kitchen, paint on the art panel, and complete the literacy activities that are posted throughout the space!  Paint, bubbles, and a few other items will be available for checkout inside the library.  Please help keep the space tidy by putting things back where they belong. People are welcome, but pets should stay at home.